Words Into Type
The latest books off the press by University of Mississippi authors and editors.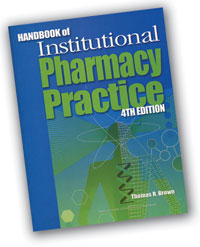 Handbook of Institutional Pharmacy Practice
The fourth edition of the Handbook of Institutional Pharmacy Practice addresses many aspects of institutional pharmacy practice that are important to both student and practitioner, providing both a novel textbook and invaluable reference guide. It is the only text of its type that provides information covering a wide range of topics in the field of pharmacy.
With 40 chapters that provide pharmacyrelated information regarding home care, hospice care, ambulatory care, managed care and hospital pharmacy practice, the latest edition also includes new chapters on the integrity of the U.S. drug supply; interprofessional teams/collaborative models; evidence-based medicine; the history of hospital pharmacy in America; and the development, implementation and monitoring of therapeutic plans.
Additionally, elements of these segments of practice are discussed in detail and provide much needed references for students and professionals. More than 60 experts have contributed to the development of this edition, compiled and edited by Tom Brown, who has served more than 35 years on the School of Pharmacy faculty.
Brown is a professor emeritus of pharmacy practice.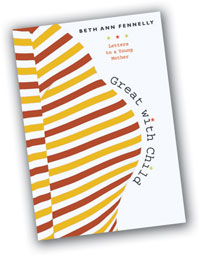 Great with Child: Letters to a Young Mother
Beth Ann Fennelly believes the universal experiences of pregnancy, child rearing and balancing a career with motherhood resonate with women everywhere. In Great with Child: Letters to a Young Mother, she chronicles her own motherhood experiences without shying away from difficult topics.
The volume actually began four years ago as correspondence between Fennelly and Kathleen, one of her former poetry students, friend and mother to be. Kathleen found out at Fennelly's house that she was unexpectedly pregnant, just before moving with her husband to Alaska, where she had no friends or family. A new mother herself, the author primarily wrote the letters to reassure and advise her friend during and after her pregnancy. Over time, Fennelly's letters began to circulate, eventually becoming an unauthorized publication before winding up in their final form.
Though the letters have been edited for the book, Fennelly says they "ended up appearing about as they were." Bits and pieces were cut from letters where she would refer to a phone call she and Kathleen had or to a mutual acquaintance whose name wouldn't mean anything to the average reader. When Fennelly went to visit Kathleen and her new son, the tables turned, and Fennelly realized she was again pregnant.
Fennelly is an associate professor of English.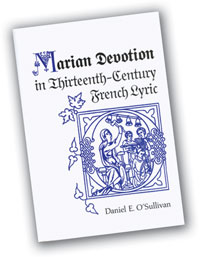 Marian Devotion in Thirteenth-Century French Lyric
Daniel E. O'Sullivan brings to light a previously unresearched topic in his first long work, Marian Devotion in Thirteenth-Century French Lyric, which focuses on Old French songs devoted to Mary, the mother of Jesus.
Although the genre has been overlooked by many scholars, O'Sullivan remedies that with an embracing examination of the text and music from these Marian songs. He reveals through the text that the Marian lyrics were more than simple lyrics. His readings reveal how each text embodies an intricate tapestry interwoven between secular songs and religious tradition that defined the era.
"This was a time when they began to put women on a pedestal," O'Sullivan says. "Many also found that Mary was a more approachable intermediary to God than Jesus." The Modern Language Association has nominated the book for its Prize for First Book, which is issued to a member of the MLA for outstanding achievement on his or her first long work.
O'Sullivan is an assistant professor of modern languages.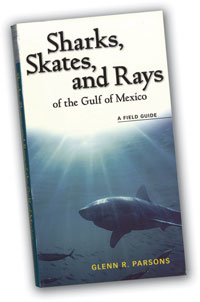 Sharks, Skates and Rays of the Gulf of Mexico: A Field Guide
For more than a quarter-century, Glenn Parsons has studied fish species in the Florida Keys and along the Gulf coast of Florida, Alabama and Mississippi, publishing some 50 papers on shark and fish biology. His latest book highlights sharks, skates and rays, which all are cartilaginous fish of the class Chondrichthyes, which is characterized by paired fins, two-chambered hearts and scales. Skates look similar to stingrays but do not have the rays' stinging spine and are harmless.
The book is enhanced with color photos and artwork and Parsons' personal anecdotes. It also includes an identification section and information relating to shark fishing, handling live sharks and shark attacks. Most people are unaware that there are hundreds of shark species and that only a handful could be considered dangerous to humans, the author says.
Parsons' final work for the book last fall became more difficult on the Mississippi and Alabama coasts following Hurricane Katrina, but the sharks that lived in the area were mobile enough to move to less devastated environments, he says, noting that their "distinctive survival solutions are fascinating." He has designated his royalties from the book for the Hurricane Katrina Recovery Fund.
Parsons is a professor of biology.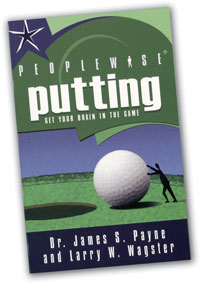 PeopleWise Putting: Get Your Brain in the Game
If you Google putting, millions of results pop up, but a new nonfiction sport book encompassing motivation, psychology and education provides a one-stop source to help men and women of all ages sink their putts on the greens.
A 176-page must-read book for anyone interested in becoming a better golfer, PeopleWise Putting—unlike other putting books that stress mechanics—boils down the vast and sometimes overwhelming material on the mechanics of putting. The book offers specific steps, based on brain technology, to produce Olympian-style focus and build superior confidence needed to drop the ball in the cup, time after time.
Payne is the developer of the PeopleWise System of Motivation, a theory that attempts to explain the connection between how people behave and the activation of their brains. PeopleWise Putting is the second in a series of books on the concept and its use. The first, PeopleWise Brain to Brain, was published in 2004.
Payne is a Fulbright Scholar and professor of special education. Wagster is a former FBI agent and Ole Miss golf coach.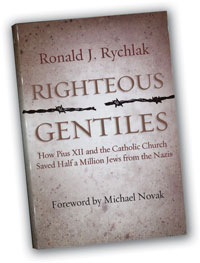 Righteous Gentiles: How Pius XII and the Catholic Church Saved Half a Million Jews from the Nazis
With Hitler, the War and the Pope (Genesis Press, 2000), Ronald Rychlak offered documented, historical evidence that Pope Pius XII was not guilty of war crimes leveled against him in John Cornwell's Hitler's Pope. Five years and countless debates later, the author follows up his critically acclaimed debut with yet another volume on the acts of the papacy during World War II. This time, however, Rychlak is obviously championing the late pontiff as he defends him.
Righteous Gentiles picks up where the first book ended. Again, Rychlak defends Pius against critics who have accused the pope of inactions during the Holocaust. In his preface, Rychlak says that Righteous Gentiles differs from its predecessor not only in focus and tone, but also in its sources. The author traveled to Rome to examine materials from newly opened Vatican archives and confidential internal reports, all of which not only exonerate Pius—uncovering instances where he spoke out against Hitler—but show he also acted in various ways to save Jews. For example, he wrote a letter that allowed some 700 Jews safe passage in 1942 as they immigrated to the United States. In October 1943, the Vatican "vigorously protested the arrest of Jews, requesting the interruption of such action."
Rychlak's conclusion is that, even if Pope Pius XII is never canonized by the church as a "saint"—although he was nominated by Pope Paul VI—he fully deserves the designation of the "Righteous Among the Nations" title.
Rychlak is associate dean and professor of law.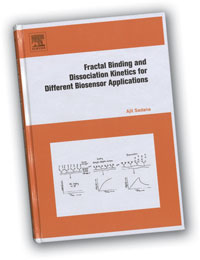 Fractal Binding and Dissociation Kinetics for Different Biosensor Applications
More than 66 million Americans have been diagnosed with chronic arthritis, and another 15 million Americans suffer from diabetes mellitus. Approximately 1.5 million cases of systemic lupus erythomatosus have been documented. One key to detecting and managing these conditions and many others is the use of biosensors.
Written by a renowned consultant for industry and for governmental agencies including the National Heart, Lung and Blood Institute and National Science Foundation, Fractal Binding and Dissociation Kinetics for Different Biosensor Applications is an excellent resource for those interested in gaining a deeper knowledge and awareness of biomarkers that lead to the onset of diseases.
In 13 chapters, fundamental principles and biochemical mechanisms on fractals and their relationships to biosensor design and applications are covered in a tutorial manner. Topics covered include fractal theory and models, harmful pathogens detection, heat-shock proteins, prions, analytes related to human health (glucose, for example), human-heart fatty acid binding protein, thrombin, interleukin and environmental contaminants.
Sadana is a professor of chemical engineering.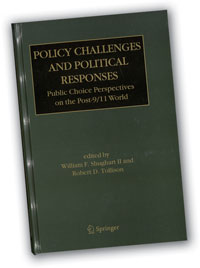 Policy Changes and Political Responses: Public Choice Perspectives on the Post-9/11 World
Two economists are on a mission to get people thinking differently about government's role in the American economy. To this end, they have co-edited Policy Changes and Political Responses, which drives home the idea that additional research is necessary to effectively answer questions and address problems stemming from the 2001 terrorist attacks.
The book originated as a compilation of papers commissioned from leading economists and was printed as a special issue of Public Choice, an internationally distributed journal of which Shughart is senior editor. Shughart describes the work as "a call to arms for scholars to start doing more work in the areas of current policy interest, ranging from education and tort reform to campaign finance, European constitution-writing and transnational terrorism."
Shughart is F.A.P. Barnard Distinguished Professor of Economics.