Less-invasive surgical option is win-lose for obese patients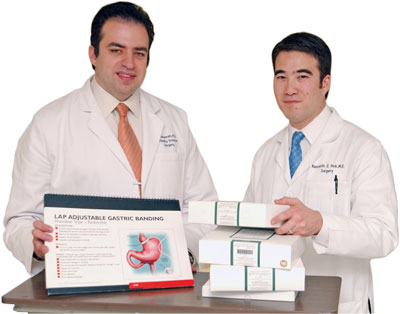 Dr. J.R. Salameh (left) and Dr. Kenneth Vick perform laparoscopic band surgeries at the Medical Center.
Nearly 65 percent of Mississippi adults are overweight or obese, and 28 percent are obese—both the highest rates in the United States. When diet, exercise and behavioral modifications fail to help, many people turn to drastic measures such as gastric-bypass surgery. But surgeons at the UM Medical Center recently began offering a less-invasive option that promises to help patients achieve weight-loss goals more simply and safely.
Laparoscopic adjustable gastric banding, or lap banding, is a purely restrictive surgical procedure in which a band is placed around the uppermost part of the stomach, says Dr. J.R. Salameh, assistant professor of surgery.
"This band divides the stomach into two portions, a small portion and a larger portion," he says. "The band has an inner balloon that is connected to a port placed under the skin; by injecting fluid into the balloon, the band is made tighter and patients feel full faster."
Lap banding does not require rerouting the small intestine, so recovery time is faster. Weight loss with the lap band is a little slower than gastric bypass surgery, occurring gradually within a two-year period, Salameh says. But the Medical Center's first patient to have the procedure experienced dramatic results, losing 65 pounds in the first three months.
Scientist works to demonstrate that sound can travel faster than light in enhanced water
Light in a vacuum goes fast enough to circle the earth's equator seven times per second, but sound waves in water travel only one mile in that same time.
However, a UM physicist may have found a way to prove that sound can travel faster than light, which could lead to biomedical applications and novel electronic devices. Joel Mobley, a researcher at the National Center for Physical Acoustics, has demonstrated that by enhancing water with microscopic plastic beads, each approximately the thickness of a human hair, the liquid can support ultrasonic pulses with speeds faster than light—also referred to as superluminal velocities.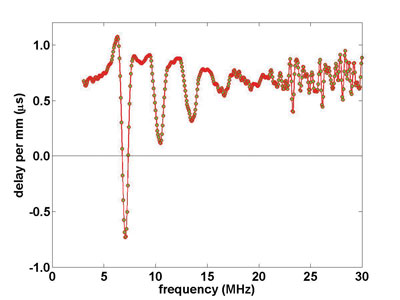 Group Velocity Data
Where the curve drops below zero indicates a regime where the velocity is considered superluminal (i.e., beyond light speed).
"The idea that acoustic wave groups could move faster than light is not a new idea, but no one has seen it happen," says Mobley, assistant professor of physics.
In "Superluminal Group Velocities of Ultrasonic Waves in Microsphere Suspensions," published in the Journal of the Acoustical Society of America, Mobley describes the conditions required to produce the phenomenon. And in a computer simulation, he bases his model on placing some 400,000 plastic spheres in about 11/2 teaspoons of water.
A member of the Biomedical Acoustics Group at NCPA, Mobley is working to observe the superluminal speeds in the laboratory. The experiment employs a variation of the broadband-through-transmission technique, which entails shooting ultrasound pulses through a sample immersed in a water tank.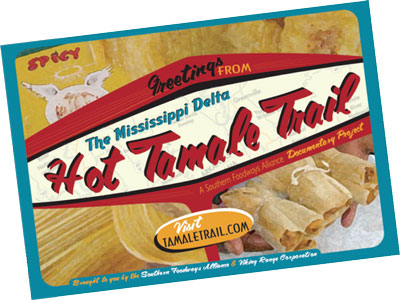 UM provides road map to Delta Tamale Trail
Mention tamales and most people probably think Tex-Mex. But many people outside the deep South might be surprised to learn that these tasty delights are archetypal Mississippi Delta cuisine.
The Southern Foodways Alliance has completed the first leg of the Mississippi Delta Hot Tamale Trail project, which is documenting the history, tradition and culture of tamales from Tunica to Vicksburg.
"The Tamale Trail is a documentary project, but it is also intended to be a tool for culinary tourism in the Delta," says Amy Evans, oral historian for SFA and chief architect of the trail. "We wanted to show people where to go to eat tamales in the Delta, and we wanted people to be able to utilize the information in a practical way."
Sponsored by Viking Range Corp., the Tamale Trail project is SFA's largest documentary project to date. A virtual tour of the trail is available at www.tamaletrail.com. Visitors, from hungry tourists to Delta locals, can listen to the oral histories, view photos, see hot tamales prepared and learn how to make their own. An interactive map is also accessible for planning an actual tour.
Drug-development partnership fights diseases of the Third World
UM pharmacy researchers and two international health research organizations have formed a landmark partnership to speed the development of new drugs to fight parasitic diseases in developing countries.
The collaboration between the university's National Center for Natural Products Research and the Medicines for Malaria Venture and the Drugs for Neglected Diseases initiative, or DNDi, involves a class of compounds that may yield new drugs to treat malaria and leishmaniasis.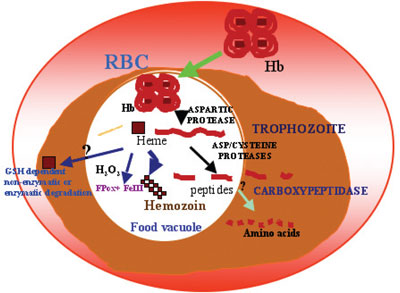 The process of hemoglobin degradation and heme detoxification by malaria parasite.
MMV has been working with UM scientists since 2003 to further preclinical development of the compound as an antimalarial (see feature on Page 28). These molecules also show anti-leishmanial/trypanosomal activity, so DNDi will provide financial support for additional studies on the effectiveness of these drugs for the oral treatment of visceral leishmaniasis.
DNDi and MMV will share clinical information as well as significant scientific findings regarding the nonclinical safety data, metabolism or other relevant findings. Bernard Pecoul, executive director of DNDi, believes that it is critical to build partnerships to avoid possible duplication of effort in a field where resources are precious. "Both MMV and DNDi have a common interest in the sustainable development of affordable drugs to fight diseases of the poor in the world's least developed countries," Pecoul says.
Young heart-surgery patients benefit from kid-sized device
>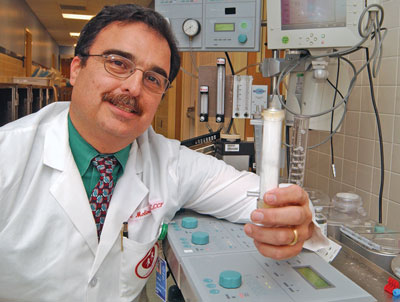 Dr. Jorge Molina
A pediatric perfusionist in the UM Medical Center's Blair E. Batson Hospital for Children has received FDA approval for a device designed to help children recover better from heart surgery.
Jorge Molina, who operates the heart-lung machine during pediatric cardiac surgery, saw a need for a smaller hemoconcentrator—used to filter water out of the bloodstream—and spent 10 years working on it. The use of smaller internal-diameter fibers translates to increased effective surface area and lower volumes while increasing efficiency.
Molina gained the interest of Minntech Filtration Technologies Group, which developed the hemoconcentrator. Molina says it should be the most used hemoconcentrator for the majority of patients under 30 pounds. With the emphasis toward earlier repairs in pediatric cardiac surgery, this product may come close to helping 60 percent of all pediatric cardiac surgery patients.
Scott Poag, a UM perfusionist who partnered with Molina on the FDA approval study, says the new device should be of great value. "The other devices are bigger and less efficient," he says.
Better education, workers are twin aims of new institute
A new School of Education facility with access to valuable national resources is being lauded for its potential to improve the quality of education and develop a more capable workforce statewide.
The Institute on Education and Workforce Development is the result of a limited partnership with the National Center for Education and the Economy in Washington, D.C. Funded through grants and the work of private foundations, the institute works to involve all levels of education, as well as business and government sectors, in a seamless approach to improving school leadership.
Longtime educator Susan Rucker, formerly executive to the state superintendent of education at the Mississippi Department of Education, leads the institute in an affiliation with the National Center for Education and the Economy.
"The work of this institute will allow Mississippi to be on the cutting edge of a national agenda on improving workforce development and increasing student achievement," says Rucker, who began her career as a schoolteacher before taking on the role of school principal. She joined the state Department of Education in 1997.
New combustion process promises to curb pollution
Chemical engineering professor Wei-Yin Chen's combustion research has attracted worldwide attention with its potential to help lessen the air pollution that produces acid rain.
"Conventional coal combustion procedures found at many factories produce nitrogen oxide, which, when mixed with precipitation, creates nitric acid or acid rain," Chen says. "Acid rain destroys forests, ruins fisheries, forms photochemical smog and ground-level ozone, while depleting the protective layer in the upper atmosphere."
By recycling a kind of solid waste as a reburning fuel, Chen has developed a process that promises to reduce nitrogen oxide production.
The work is funded by the National Science Foundation and the U.S. Department of Energy, and a patent is pending on the procedure, which has attracted researchers in the United States, China and Europe. The method has been demonstrated on a 7-kilowatt boiler at the University of North Dakota's Energy and Environmental Research Center, and Chen is seeking industry partners so the technology can be demonstrated on larger-scale pilot boilers.