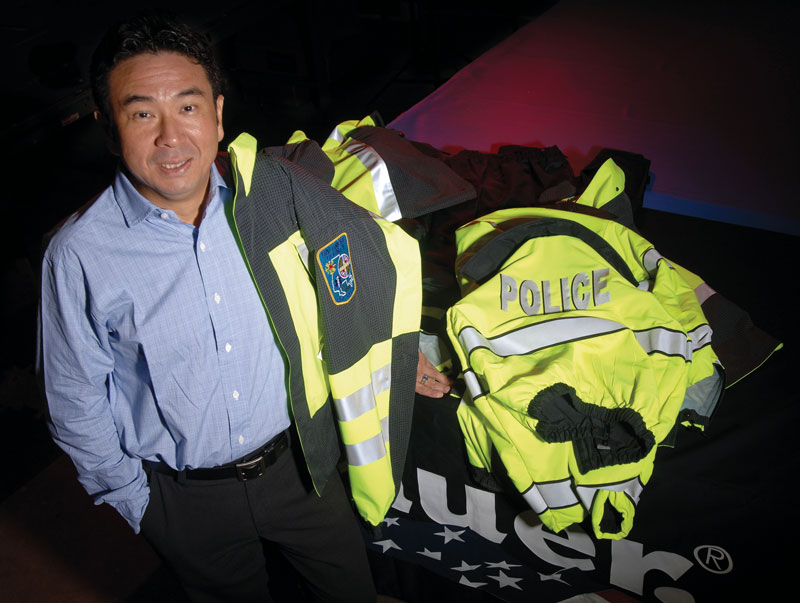 The Customer Knows Best
Marketing professor Seiji Endo works to merge concepts of mass production and customization to help domestic industries compete in global market.
Not too long ago, the Mississippi landscape was dotted with more than kudzu and pine trees. As recently as 25 years ago, dozens of clothing manufacturers employed hundreds of workers throughout the northern part of the state.
Slowly they started to disappear, taking jobs and wages with them as foreign competition squeezed profit margins. Some remaining companies thought the answer to their problems was to turn to offshore production or even go out of business.
'Mass customization provides a special product for individual customers at a reasonable price.'
Seiji Endo
But there may be another choice that saves businesses and U.S. jobs: mass customization. This business approach is being studied by UM marketing professor Seiji Endo, who is particularly interested in its effects on Mississippi. His research is funded by a Faculty Research Fellowship awarded by the Office of Research and Sponsored Programs.
"Mass customization involves many factors, such as the manufacturing industry, the retail industry, technology and the consumer," Endo says. "While there is no clear definition yet, the key part is getting the customer involved in creating the product's design, as with ordering a computer or custom building a house. Some people will involve more detail in their designs, and some are just superficial factors such as color, but the customer is involved with the process in some way."
Price is another important aspect of mass customization, he says. "Mass customization provides a special product for individual customers at a reasonable price. There is also a short lead time, perhaps one or two weeks."
The Faculty Research Fellowship helps Endo further study this concept. "This grant gives me a lot of opportunities to visit a variety of companies in Mississippi and practice in interviewing managers," he says. "I am planning to visit companies, such as the Nissan factories in Canton [Miss.] and other Southern states, in order to depict an overall picture that covers manufacturers, retailers and consumers." Nissan uses mass customization at its factories in Japan, Endo says, and he would like to see how the corporation operates its American facilities.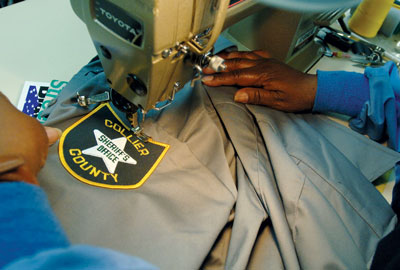 S.W.M. ships out uniforms every day to locales in Georgia, North Carolina, Massachusetts, Vermont and other states.
Endo says he has been interested in design all of his life, and his research into mass customization came about because of his respect for the craftsmanship of the products. "I've loved design and customized products since childhood. I visited a lot of factories in Italy, Japan, Spain and the U.S. I respect craftsmanship. [Craftsmen] spend a lot of time training to be professional, and all of a sudden their jobs are gone. So I was wondering, what can I do to help?"
More than a century ago, just about all products were custommade by craftsmen. But with the dawn of the Industrial Revolution— particularly Henry Ford's assembly line concept—mass-produced goods became less expensive and more readily available. The concept of mass customization blends the advantages of each method of producing goods to give customers the particular goods they want at a lower cost.
One of the local factories Endo has studied is S.W.M. Inc. of Oxford, a division of Blauer Manufacturing Co. S.W.M. is a distribution center for uniforms for police officers, firefighters and emergency-medical-service personnel.
Plant manager Elvest R. Cook Jr. says that S.W.M. takes pre-made pants or jackets and adds items such as extra pockets or reflective strips. Customers also may want certain buttons or wind-stopper liners inside sweaters to make them warmer.
"The goods may start out in China or at our plants in Missouri or Mexico, and then we can add patches or customized logos. We can do all that ourselves, and it is really an amazing feat for us to be able to handle all of this," says Cook, who has been manager for five years.
"We're just trying to be an above-average plant and doing things no one else has thought of. S.W.M. was originally a shirt factory for police and firefighters, but I didn't feel like there was any security in that, so we decided to go into customization and warehousing, which has more of a future. Now we don't do any manufacturing anymore and are strictly doing customization."
'The result is that people get what they want, while costs are controlled.'
Charles Ingene
S.W.M. has operated in Oxford for eight years, employs 100 people and is thinking about expanding its 50,000-square-foot location.
Charles Ingene, director of the global-commerce program at UM, says Endo's research helps everyone to understand the subtleties associated with mass customization and economics.
"It is clear that, as incomes rise, people seek to purchase exactly what they want," Ingene says. "It has always been possible for the wealthy to achieve their idealized products by having them custom made, but this has historically been beyond the reach of almost everyone. What mass customization does is to start with a basic product, then modify or customize it at the finishing stage. The result is that people get what they want, while costs are controlled.
"From an economic perspective, mass customization entails more labor expenses than mass production, so more people are employed, as occurred with the S.W.M. factory," Ingene adds.
Endo also has visited the Viking Range Corp. in Greenwood, Miss., a worldwide leader in producing highend cooking appliances for upscale markets.
"Viking is contributing to the Mississippi economy, especially by exporting to Asia and Europe," Endo says. This past summer, he visited Ashley Furniture Factory in Ecru, near Tupelo, and is planning to expand his research by studying several major and small furniture manufacturers throughout the region in coming months.
But the real goal of his research is to come up with a concrete definition of his concept. "I want to develop a broad, overall picture of mass customization because it has so many factors," Endo says. One challenge is to expand the concept to new industries, such as automotive and furniture manufacturing.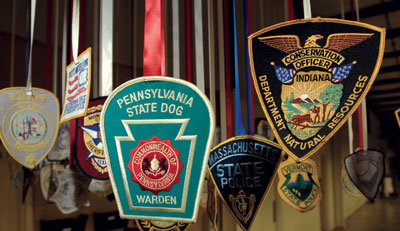 At the S.W.M. factory in Oxford, various law enforcement patches from across the country hang from the ceiling, a testament to the commercial power of mass customization. The concept has helped the facility to thrive in an age of increasing competition and cost pressure.
Although mass customization may seem like an unusual idea at first, the concept is already firmly rooted in some industries. For example, whenever a customer orders a computer with a certain amount of memory, an external hard drive or an oversized monitor, this is mass customization.
"On the consumer side of things, many people have already purchased mass-customized products but don't realize to what degree they've purchased them," Endo says.
Another example is a customized automobile. Americans are accustomed to walking onto a lot and buying a car ready to drive home. But in Japan or Europe, where mass transportation is more readily available, consumers are willing to wait for a custom-made model from the factory, he says.
Endo has a few other projects up his sleeve, including studying the concept of moving around the old-fashioned way—walking. He and other UM colleagues in the developing Interdisciplinary Working Group on Gerontology/Fall Prevention are working with aging populations to prevent falls. Customized shoes that provide better balance could help prevent potentially deadly falls for the elderly.
"My expertise is footwear and the shoes that prevent falling," Endo says. "Older people need special shoes to prevent falling. They know if they have a problem they need to buy customized shoes, but they're expensive and unattractive."
By employing Endo's mass-customization principles, footwear manufacturers might be able to produce stylish shoes that fit the specific needs of older customers. In doing so, they stand to build new markets for their products, while also filling a growing need as the general population ages.