Words Into Type
The latest books off the press by University of Mississippi authors and editors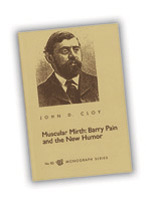 Muscular Mirth: Barry Pain and the New Humor
The second book by John Cloy is a biographic and bibliographic study of 19th century author Barry Pain and his colleagues, the New Humorists, who helped make the short story a staple of English-speaking readers.
Prompted by an 1870 education act, England saw rising literacy rates among lower- and middle-class citizens. Disparaging the massive, multivolume novels of the Victorian period, these readers preferred the short, succinct writings that they found in the work of Barry Pain. Pain also mastered the use of Cockney dialect, which appealed to comedy fans and working-class readers but which had previously been expressed inaccurately and incorrect phonetically.
Pain and the New Humorists wrote their tales and comic pieces in early 20th century magazines that are all but forgotten now. Their pieces were successful because of their concise, journalistic writing style that was so different from their literary predecessors. Pain and the New Humorists may have slipped into obscurity, but Cloy presents a remarkably complete account here.
Cloy is a bibliographer for the humanities at the J.D. Williams Library.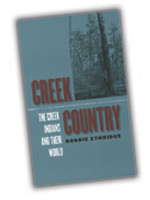 Creek Country: The Creek Indians and Their World
Reconstructing the human and natural environment of the Creek Indians in frontier Georgia, Mississippi, Alabama and Tennessee, Ethridge illuminates a time of wrenching transition. Creek Country presents a compelling portrait of a culture in crisis, of its resiliency in the face of profound change and of the forces that pushed it into decisive, destructive conflict.
Ethridge begins in 1796 with the arrival of U.S. Indian Agent Benjamin Hawkins, whose tenure among the Creeks coincided with a period of increased federal intervention in tribal affairs, growing tension between Indians and non-Indians and pronounced strife within the tribe. In a detailed description of Creek town life, the author reveals how social structures were stretched to accommodate increased engagement with whites and blacks.
The Creek economy, long linked to the outside world through the deerskin trade, had begun to fail. Ethridge details the Creeks' efforts to diversify their economy, especially through experimental farming and ranching, and the ecological crisis that ensued. Disputes within the tribe culminated in the Red Stick War, a civil war among Creeks that quickly spilled over into conflict between Indians and white settlers and was ultimately used by U.S. authorities to justify their policy of Indian removal.
Ethridge is the McMullan Associate Professor of Southern Studies and associate professor of anthropology.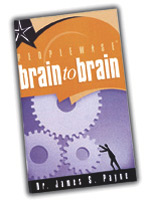 Brain to Brain
Why do some people excel? The knowledge of the specific patterns of neuron firing in their brains allows them to control the outcomes of their actions, says James Payne, a longtime UM faculty member whose PeopleWise theory attempts to explain the connection between how people behave and the activation of their brains.
Payne recently returned from serving an academic year as a Fulbright Scholar at Dokuz Eylul University in Izmir, Turkey, where he taught and refined his PeopleWise concepts. Brain to Brain is the first in a series of books based on the concepts. "PeopleWise transcends cultures," Payne says.
This volume seeks to help readers control their own neuron firing patterns with minimal training, thus providing self-improvement, especially in the areas of self-motivation, the motivation of others and physical skills.
"PeopleWise refers to people becoming wise about themselves and others," Payne says. "Individuals who become people-wise know what makes them tick and how to tick better, and how others tick and how to help them tick better."
Payne is a professor of special education.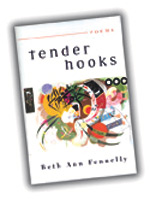 Tender Hooks
Fellow award-winning poet Alice Fulton called Beth Ann Fennelly "a necessary poet with the courage to 'tell all the truth' and the 'wit-to-tell-it slant.'" Tender Hooks, Fennelly's second published poetry collection, is a portfolio of spirited and unblushing observations of new motherhood, which she says she studied for "like a Ph.D. exam" but found that reality proved "wilder and deeper and funnier" than anything she had anticipated.
She tackles birth and death, and, in between, love and anger, faith and despair, loss and laughter. In the featured nine-word poem "First Day at Daycare," she pulls no punches: "My daughter comes home smelling like/another woman's perfume."
Fennelly's previous book, Open House, won the 2001 Kenyon Review Prize and was a Booksense Top 10 poetry pick.
Fennelly is an assistant professor of English.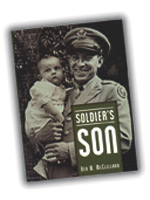 Soldier's Son
In December 1944, First Lieutenant Ewing R. "Pete" McClelland was captured in the Battle of the Bulge. During an Allied air attack on the German POW camp where he was held, he was killed. Back home in Pennsylvania, his young widow and three small children carried on. Too young to have lasting recollections, Ben McClelland, the soldier's son who was just beyond infancy, became one of the war's fatherless innocents for whom the memories of others would form the paternal image.
Through Soldier's Son, McClelland explores his search for, and eventual discovery of, the man he could not remember. McClelland describes the innocence of childhood and recalls the many people who furnished impressions of his father. The story resurrects a father vital in life and passion, a man chronicled in humorous family tales, realized among vivid small-town characters and seen amid the social changes of the 1960s. Old photographs, intimate letters and interviews with extended family help McClelland re-create not only an image of his father but also of crucial times and places in his parent's life.
McClelland, a Masontown, Pa., native, publicly commemorated his father and discussed his book at the annual World War II Orphans Network conference that coincided with Memorial Day 2004.
McClelland is a professor of English and holder of the Ottilie Schillig Chair in English composition.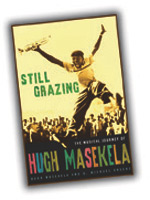 Still Grazing: The Musical Journey of Hugh Masekela
South African trumpeter Hugh Masekela scored a No. 1 pop hit in 1968 with "Grazing in the Grass," but more Americans probably remember him for his performance on Paul Simon's "Graceland" tour. Despite his limited success in this country, Masekela has been a huge star in Europe and Africa, recording more than 40 albums, selling more than 5 million records and constantly touring.
This lengthy autobiography breaks the star's life into three phases. The first spans from his birth in 1939 to his flight to the U.S in 1960, offering a detailed look at life under apartheid, in which his trumpet became his "personal choice of weapon." The middle section is a virtual history of American music in the 1960s, from Masekela's efforts to raise interest in African music (along with singer Miriam Makeba) to his becoming friends with everyone from jazz legend Dizzy Gillespie to rock star David Crosby. The final section covers Masekela's international adventures, including playing with Nigerian musician Fela, watching the Ali-Forman fight in Zaire, garnering critical praise in the late 1980s with his musical "Sarafina" and touring with Simon.
Masekela's story chronicles his activism—along with his womanizing and drug and alcohol abuse—about as much as his music. But it also offers excellent descriptions of his musical accomplishments, which he beautifully defines as "a potpourri of the music of the African Diaspora."
Cheers is an assistant professor of journalism.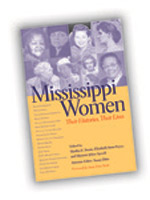 Mississippi Women: Their Histories, Their Lives
Seventeen remarkable women who helped shape modern Mississippi are featured in this volume produced by the Mississippi Women's History Project. The 324-page book is co-edited by UM's Elizabeth Anne Payne, along with Martha Swain, history professor emeritus of Texas Women's University, and Marjorie Julian Spruill of Vanderbilt University.
The women whose absorbing life stories are told range from Felicité Girodeau of Natchez, who was black and a slaveholder, to Vera Mae Pigee, who "mothered" the civil rights movement in the Mississippi Delta.
Some of the women—such as Eudora Welty and Fannie Lou Hamer—are well-known. Others were prominent in their time but have since faded into obscurity, and a few never received the attention they deserved. What they all had in common was the shared experience of attaining womanhood with all the challenges, pains and privileges it entailed. Sometimes they upheld traditional notions of gender and race. Sometimes they struggled to overcome them. None was free from what Welty once called "the crossroads of circumstance" that defined and still shapes the lives of Mississippi women.
The stories include tales of women who escaped Mississippi because they refused or were unable to live within the social and political constraints of the time. But there are those who remained in a closed society, hoping simply to create a better future for themselves and their families. Some lived for a time outside the state, but ultimately returned to the place that was home.
Payne is a professor of history.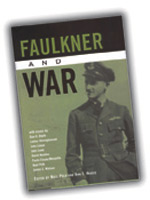 Faulkner and War
Born in 1897 into a South still reeling over its Civil War loss, Faulkner saw the United States wage war three times during his lifetime. Although the Nobel laureate never experienced its atrocities firsthand, war was an omnipresent theme in his life and work. Faulkner and War, a collection of eight critical essays written by leading scholars and first presented at UM's 2001 Faulkner and Yoknapatawpha Conference, examines the role of war in Faulkner's writing. The book is the latest in the Faulkner and Yoknapatawpha series, published by the University Press of Mississippi since 1977.
"War was an important subject in his life, and this book covers the effects on Faulkner of the Civil War, World War I and World War II," Abadie says. "The Civil War was very much present in the lives of his family and friends, and also, of course, Faulkner tried to serve in the first [world] war. Although he wasn't able to, he told magnificent stories of flying and how he came to have a plate in his head as a result of his injuries." (Faulkner claimed to have been hurt in World War I as a member of the Canadian Royal Flying Corps—he had been too small for the U.S. Air Force—despite having received an honorable discharge when the war ended, before he completed his training in Toronto.)
Faulkner and War focuses on topics ranging from Faulkner's relationship to the Civil War to his writings about World War I, from his changing attitude toward war as reflected in various novels to the idea of war expressed as a condition of reality in novels that don't explicitly make reference to the subject.
Abadie is associate director of the Center for the Study of Southern Culture.