Deadly Combinations
Pharmacy researchers try to head off drug interactions that can land patients in the hospital—or in the morgue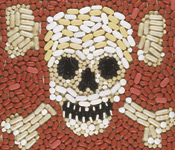 Carra Hewitt
A
sk an average person to name the disease that costs Americans $100 billion each year, and they might guess cancer, Alzheimer's or heart disease. Some might even toss out diabetes or multiple sclerosis.
But according to the American Society of Consultant Pharmacists, medication-related problems are a "disease" that costs this country as much as those more well-known conditions. Measured in terms of suffering and untimely deaths, the costs soar even higher.
"In this nation, we spend as much money treating adverse drug reactions as we do for the medicines," says Dr. James McIlwain, a family practitioner for more than 20 years and president and CEO of Information and Quality Healthcare, a nonprofit agency that monitors the quality of care received by Mississippi's Medicare beneficiaries. "The Institute of Medicine said several years ago as many as 7,000 people die in hospitals from medication events. I've seen figures that say $4 billion to $17 billion could be saved by preventing these things. We have a real problem with the medication-use system in this country, and the money and the mortality are the biggest reasons to do something about it."
The UM School of Pharmacy has teamed with the Centers for Medicare and Medicaid Services (CMS) and its Mississippi Quality Improvement Organization, IQH, to reduce the number of medication-related problems in Mississippi seniors. Researchers in the Department of Pharmacy Administration have spent the last two years analyzing hospital charts and prescription claims to catalog preventable medication errors in Medicare and Medicaid beneficiaries.
Though prescription medications are important to improving the quality of life for seniors, the elderly are at higher risk for medication problems because they have more chronic diseases and conditions, take more prescription and over-the-counter drugs, and have physiological differences that affect how drugs are processed in their bodies. Medication errors are a major cause of confusion, depression, falls, loss of independence and physical disability among people over 65.
For example, a 70-year-old who has trouble sleeping may be prescribed fluorazepam. Because fluorazepam takes a long time to leave the body, it is considered inappropriate for seniors, who often have decreased kidney and liver function. It can cause drowsiness even after waking, which can lead to a fall and possibly a hip fracture.
'We spend as much money treating adverse drug reactions as we do for the medicines.'
—Dr. James McIlwain
In some cases, a drug interacts with a condition or disease. A senior with emphysema may be prescribed propranolol to control high blood pressure. Because propranolol blocks beta receptors in the lungs, it can exacerbate a patient's emphysema and possibly put that person in the hospital.
But many adverse drug effects are preventable, and researchers led by pharmacy administration professors Dr. Noel Wilkin and Dr. John Bentley are at the forefront of identifying their incidence. Using existing literature, the group created the Prescription Continuity of Care System, or PCCS, a database of drug-drug interactions, drug-disease interactions and drugs that should not be prescribed to seniors. They then created a homogenization process that put the data into a standardized format.
In 2002, the team contracted with a company that pored over more than 2,000 anonymous Mississippi hospital charts, entering each patient's condition, medications and lab values into PCCS. They then screened for thousands of drug-related problems and documented thousands of avoidable drug errors.
Hoping to access more complete information and broaden PCCS' capabilities, Wilkin and his associates turned to electronic data in 2003 and 2004. Because Medicare pays for medical care such as hospital and doctor visits but, in most cases, not prescription medications, CMS could provide medical claims data but not sufficient information about its Medicare beneficiaries' prescription drug use.
However, Medicaid does pay for prescription drugs and collects data about its beneficiaries. Fortunately for the researchers, some Mississippians receive both Medicare and Medicaid. By combining data on this dually enrolled population, they were able to pull together both hospital and prescription records.
"This gave us both pieces of the puzzle," Wilkin says.
With this more complete data incorporated into PCCS, the team was able to produce a more accurate picture of medication errors among the 129,000 dually enrolled Medicare beneficiaries. The researchers also upgraded PCCS to process more than 85,000 standardized National Drug Codes, allowing the system to screen for nearly every drug on the market, be updated easily and analyze drug-use problems on a large—even national—scale.
"Instead of saying how many people are on one drug, we have homogenized more than 85,000 NDC numbers into recognizable formats," Wilkin says. "By doing that, we are then able to run analyses on all those drugs and simultaneously scan for over 4,000 drug-drug interactions. It's relatively easy to go in and look at this drug or that drug, … but to go in and scan over 4,000 drug-drug interactions on 129,000 people in a matter of five seconds, that's the real value of what we can do."
It is this ability that sets PCCS apart, Bentley says.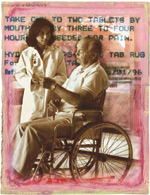 "There are other people who have done similar things, but what stands out here is the collection of data from a variety of places, combining Medicare and Medicaid claims data, and working with CMS and getting their support."
Others have noticed the value of PCCS. Medicare patients with end stage renal disease, or ESRD, are tracked by ESRD Network 8, which serves as a liaison between CMS and Mississippi providers of ESRD services. Like IQH, Network 8 monitors the quality of care received by Mississippi Medicare beneficiaries with ESRD. Impressed with the capabilities of PCCS, Network 8 asked the team to analyze the prescription care received by its beneficiaries.
PCCS has even more potential in light of the Medicare Modernization Act of 2003.
"When the Medicare legislation came in, Medicare couldn't even say how many of its people were on Lipitor, let alone figure out how to improve quality," Wilkin says. "Medicare is now becoming one of the biggest payers for prescription drugs in the United States, and, while they have this huge initiative to improve quality in institutions, they have no mechanism for tracking the quality of care people receive with prescription drugs."
Now that Medicare pays for prescription medications on a limited basis and will offer more extensive coverage in 2006, the need to monitor its beneficiaries' medication usage is more important than ever for CMS and IQH.
"There needs to be a way to measure what's going on as the government and our tax dollars are getting into providing this benefit," McIlwain says. "Our main goal is to improve quality of care [and] this is just another facet of medical care that needs to be measured and improved. My saying is, you can't manage what you don't measure."
As the team works to access data from all 50 states, PCCS stands ready to help IQH improve the care received by Mississippi Medicare beneficiaries, identify drug-use problem areas on a larger scale and guide future research.
"In some ways, you can see what we've done with PCCS as a service function to CMS," Wilkin says.
"But now that we've built this system, we have access to a mechanism to test very real, very practically significant and theoretically significant problems that society faces."