Division of Technology Management helps bring pharmaceutical firm to Oxford
B
arely six months old, UM's Division of Technology Management has wasted no time. Besides facilitating the licensing of 17 university technologies to industry, the office is working with others at UM, as well as state and local leaders, to attract existing businesses to Oxford.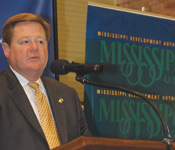 Randy Hoggle announces that BioDerm Sciences will locate its headquarters in Oxford.
Kevin Bain
One business, BioDerm Sciences, a subsidiary of Health Pathways of Gaithersburg, Md., has selected Oxford as the site of its corporate headquarters and its R&D and manufacturing operations.
"We're locating in Oxford primarily to be close to and to work with the School of Pharmacy," said Randy Hoggle, CEO and Health Pathways chairman of the board. "There's a good work force there, and there's a great relationship between the university, community and state—it's a very positive work climate. The partnership between us and Ole Miss is one that will provide more benefit than the sum of its parts to both parties."
BioDerm, which is primarily involved in developing and marketing wound-healing products, plans to create over the next three years approximately 50 jobs, many of those for recent and past graduates of UM research programs. According to Walt Chambliss, the university's director of technology management, those jobs will allow Mississippi to retain highly specialized pharmaceutical scientists as well as provide opportunities for UM alumni to return to Oxford.
With the addition of BioDerm Sciences to Oxford's existing pharmaceutical companies—Medical Marketing Economics and ElSolhy Laboratories—and the growing number of pharmaceutical distribution companies near Memphis, Chambliss said that the momentum exists for the development of a "pharmaceutical cluster" in north Mississippi.